Find out how to get the most out of your time as a student at Cambridge University – one of the most prestigious universities in the world.
The University of Cambridge welcomes up to 4,000 new students every single year to study at the world-renowned educational facility.
If you're going to be one of those lucky students in the future, it's a really exciting time for you, if not a little daunting at the same time.
To help you truly make the most of this exciting time in your life, here are some tips on getting the most out of your time as a student at Cambridge University:
The Practical Things
Emotional Health
This is such an exciting time of your life. You're away from your parents, you're going to parties, you're making friends. Of course, there's a lot of great stuff going on. As well as all this excitement, it is important that you also prepare for perhaps feeling a little homesick, and a little overwhelmed. This is a huge change, there's a lot to learn, there are responsibilities you didn't have before (where did all these dirty dishes even come from?!) – it's a lot.
Remember that your emotional health should come first. Try to ensure that you continue to:
Take some timeout just to relax on your own
Keep in touch with friends and family you trust
Make yourself familiar with support services available at the university
Reach out if you are really struggling – there is help and support available for you
Everybody gets a little overwhelmed when they go to university, so don't worry if that is how you feel, you're not alone.
Managing Physical 'Stuff'
As you enjoy your time at university, stuff will 'accumulate', even if you lead a minimalist life.
Cambridge has a lot of great shops, and you get a lot of free stuff at fares, events and on nights out. Moving that stuff between home and halls can be tricky, so it could be worth using something like cheap self storage. Cheap self storage gives you a safe place to move valuables to when you pop home, or to store all your belongings when you're between accommodation. It can save a lot of hassle, especially when you get a house share in your second year.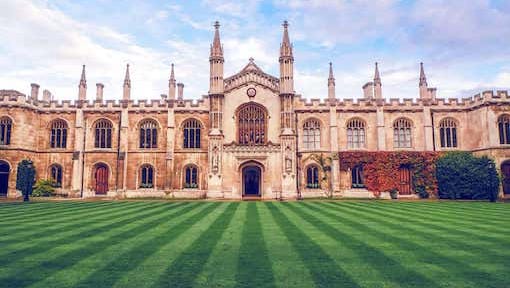 Day To Day
Day to day there are things you need to do that you didn't need to do at home. Washing laundry, cooking dinner, cleaning communal areas – the list seems endless.
When you're in halls, it's really about cooking a meal and washing the dishes right away so it's done and dusted with nothing to do later. Otherwise, you just have to keep your room clean as much as you can. When you move into a shared house, things get more exciting, but also more challenging.
Do try to set up shared shopping trips, group bulk buys and a cooking rota so everybody shares the responsibility. You can find some great student-friendly recipes here that are really easy to scale up to feed the whole house.
A cleaning rota can also be a great idea for a shared house. This ensures the house stays tidy and clean, without one person doing all the work to keep it in good shape.
 If you start off with these rules in place, and good communication, any issues that do pop up can be discussed and ironed out easily with any luck.
Studying
As a student at Cambridge University you're going to be learning a lot, and the more efficiently you manage your time, the better. You should take care to:
Get into a good sleep routine so you make those early morning lectures
Always get the recommended advance reading done
Have a 'go-to' study location that works well for you
Join the subject society for your main subjects
Start early getting familiar with exam layouts
It is also so important not to study too much, in the same way you shouldn't party too much either. Studying too much can lead to your burning out, which could drastically impact your studies and ability to make the most of your course.
Take care to be efficient with your time, including downtime just for you, so that you're always in great shape to make the most of this amazing opportunity.
If you're struggling with your schedule and workload, remember to reach out to your university, there is support available to you.
Things To Do In Cambridge
It is important to remember that studying in Cambridge isn't just about hard work. There are so many things to do and enjoy to make the most of your time in this incredible part of the country.
Some of the top activities to enjoy in Cambridge include:
Punting or paddle boarding on The River Cam
Visiting any of the many incredible museums
Enjoying a bit of shopping in Kettle's Yard, Market Square, Burleigh Street, Mill Road, Grand Arcade or the All Saints Garden Art and Craft Market
A pub crawl of the micro-breweries and historical pubs in Cambridge
Seeing a movie on The Meadows
Fun at the Community Circus, Chesterfield Road
A swim at Jesus Green Lido
If you are short on cash, there are plenty of free activities to enjoy in Cambridge. Lots of the museums are free to visit. Or, if the weather is good, picnicking at Grantchester Meadows is great. You can see punters on the river, and there's usually plenty of other people around enjoying some relaxation.
Talking of free or discounted activities, remember to take advantage of the various activities available from the University. The clubs, events and hobbies you can enjoy are endless. This can be a great way to learn a new skill and make some new friends away from your course all for free, or at a discounted rate.
"Cambridge was a joy. Tediously. People reading books in a posh place. It was my fantasy. I loved it. I miss it still." – Zadie Smith
Studying at Cambridge is going to be exciting, challenging, daunting and memorable. With a dedicated attitude to all aspects of your university life, you're sure to make the most out of every day as a student at this world-famous institution.