Cheap Self Storage
There can be many reasons individuals and businesses need cheap self storage to store goods away to be used at a later time. Sometimes when moving house your household goods may need to be stored temporarily until your new home is ready. This may be due to timing and not having located a permanent home in your new city and you may need to store your belongings for a few weeks as you find a new home.
You may decide to do some renovations of your new home or build an entirely new home. You will need to have your furnishings out of the way while this is going on and cheap self storage is an obvious choice. You may just need to store items you do not, or cannot, have in your home due to space constraints. Self-storage is inexpensive so can be an excellent option in situations like this. If you are moving and your household or office furnishings need to go into storage for a period of time, your moving company may have a storage option available but it will be considerably more expensive than a cheap self storage facility.
You will be in possession of a key or access card and can control who has access to the space providing excellent security access for your items.
"Call us on 01223-664288 for advice or to book a unit now..."
Small Self Storage Unit

Our smallest self storage unit is perfect for the contents of one room. It's a popular choice for overseas students who need to store their belongings outside of term time.
Dimensions:
Floor area: 10 sq ft
Height 6′ 6″ / 198 cm
Medium Self Storage Unit

Our medium-sized self storage unit is a very versatile and popular storage unit. It is large enough to accommodate shelves and hanging space if required.
Dimensions:
Floor Area 35 sq ft
Height 7′ 4″ / 225 cm
Large Self Storage Unit

Our large self storage unit is a similar size to a typical single garage. It can accommodate the contents of an average 1 or 2 bedroom home. It can also be used for storing business, equipment, paperwork or stock for small companies.
Dimensions:
Floor Area: 160 sq ft
Height: 7' 9" / 237 cm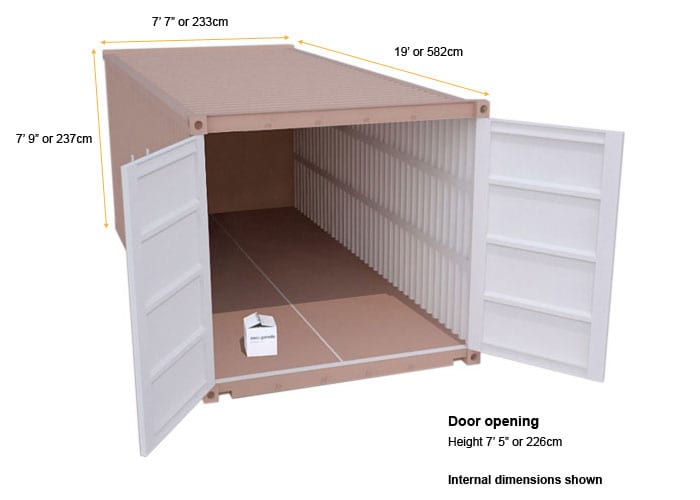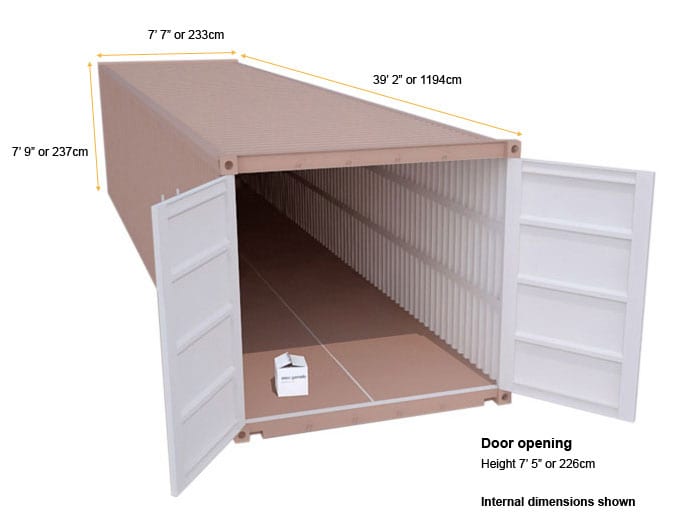 Extra Large Self Storage Unit
The Extra Large Self Storage unit is our biggest storage unit. Large enough for the contents of a whole house, or even a place to store a valuable car. Also perfect for the storage of business archives, office equipment or stock.
Dimensions:
Floor Area: 320 sq ft
Height: 7′ 9″ / 237 cm
Dimensions are shown as a guide only and containers may vary slightly due to manufacturing tolerances.
Self Storage Checklist
Rent The Right Amount of Space
No one wants to have to pay rental for storage space that they don't need but neither do they want to find their storage unit won't accommodate all of their possessions. So it makes sense to talk to the experts who can help you calculate the correct amount of space for your requirements. Call us now on 01223-664288 and we'll calculate how much space you need.
Check If The Regular Price Is Fixed
No one wants an unexpected price rise soon after moving all your items into a cheap self storage unit so ask the provider if prices are fixed and, if so, for how long. At Cambridge Self Storage we are proud to offer an industry-leading 5 years fixed price for all our storage units whether you need personal or business self-storage. So whether you are renting for 3 months, 1 year or 5 years you will know the total cost at the start of the rental period. Few other self storage facilities will offer that sort of guarantee.
Check Your Insurance Cover
Before placing your items in storage check whether your household or business insurance covers you both during transportation and whilst the items are in storage. Look carefully at any exclusions in terms of what is and isn't covered to make sure you fully understand any risks you may be taking.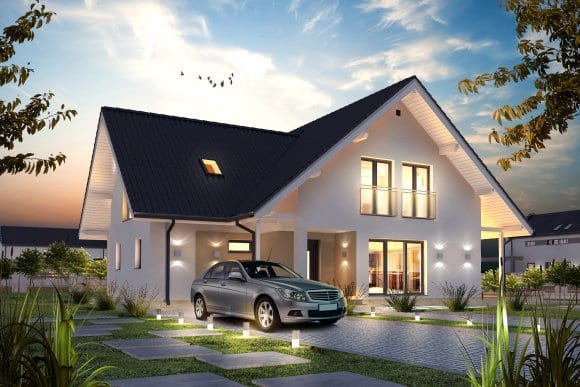 Moving House
One of the most common reasons for renting a cheap self storage unit is when moving house. Particularly if you are down-sizing or combining 2 households. In these cases you may have more household goods than will fit in your new home. So storing some possessions away while you decide what you want to keep avoids making rushed decisions you may regret later.
Inexpensive storage is also useful for people moving into rented accommodation after selling their current home. In a uncertain housing market the best way to secure a good price on an existing home is to be able to move quickly. Something that is almost impossible if you become involved in a long buying and selling chain. Renting can help minimise the chain length and places buyers in a better position to secure their next home as they become cash buyers (or, at least, chain-free buyers).
The minimal expense of a low-cost self-storage unit can more than offset the cost-savings from being a buyer in a good position. Sellers are much more likely to accept a lower than asking price offer if they know you can move quickly.
Relocating
Relocating to a new area or even a new country can be a busy and stressful time. Even when it is something to look forward to such as a new job or moving to be closer to family, there are still endless tasks that need to be done to make the move as smooth as possible.
This is another time when renting a cheap self-storage unit can save you time and hassle. Storage units are inexpensive and easy to access so well in advance of the moving date you can start packing boxes and storing them away from the home in readiness for the big day.
People often choose to leave some possessions in a storage unit until they have settled into their new home. At Cambridge Self Storage we can deliver your items to your new location at a time that suits you – once all the hassle of the move is out of the way.
"Call us on 01223-664288 for advice or to book a unit now..."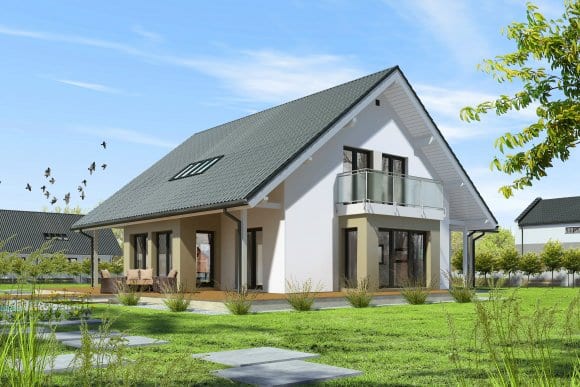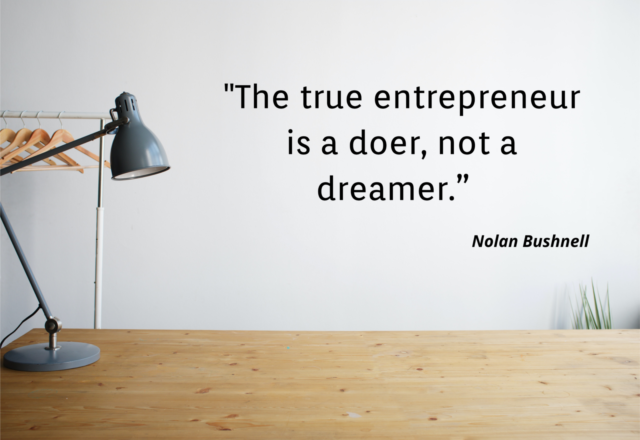 Business Start-Up
Starting up a business is an exciting but hectic and worrying time. It's also a financially risky time so the last thing small business owners want is the added worry of long-term financial commitments. That's where cheap self storage can prove to be the perfect solution. A cost-effective self-storage unit can provide as much, or as little, space as a business needs. Contracts are flexible and the maximum commitment is 1 month. The size of storage unit can be increased or decreased as demands of the business change.
Add to that the security of a self storage facility, which is often much more secure than the average home or garage, and it's easy to see why self storage is so popular amongst small business owners.
Benefit from bulk discounts when purchasing stock and store away until needed. Buy seasonal stock well in advance for extra discounts too. These and many other cost-saving measures can help get a business start-up off on the right financial footing.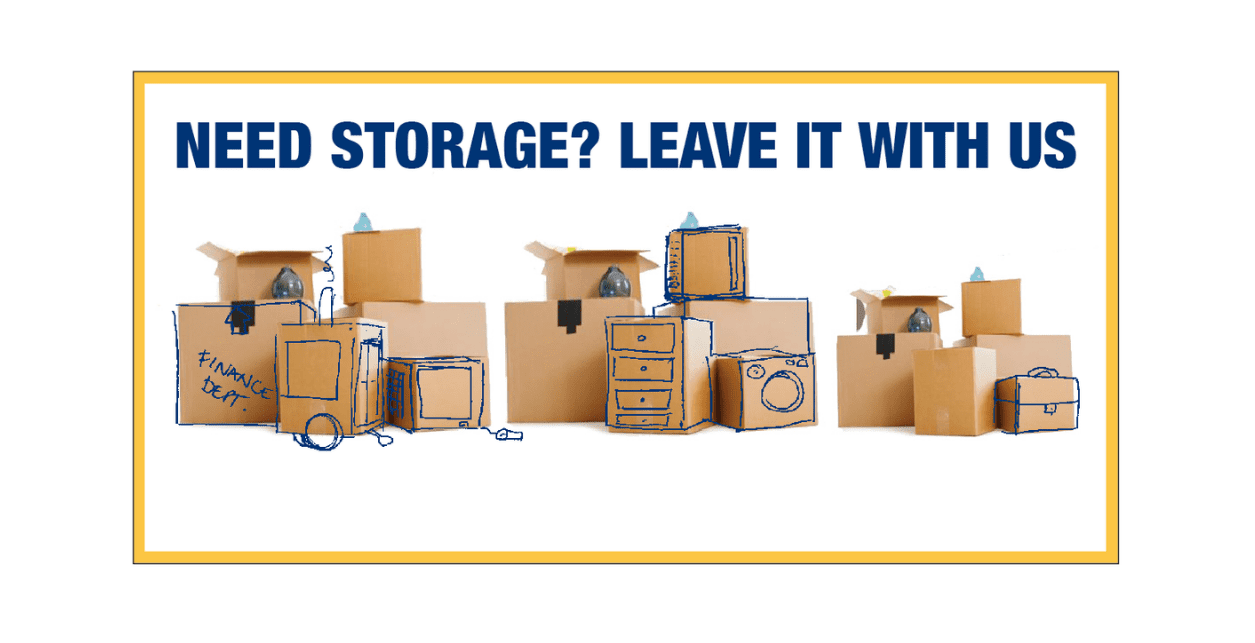 Important Factors To Consider When Renting a Cheap Self Storage Unit
An important factor to note is that when you are placing items in a self-storage unit they take up much less space than in a home or business premises because they can be stacked to the full height of the unit. Large furniture items such as beds and sofas can be placed upright to maximise the available space.
If you will need regular access to your belongings then you will also need to consider an access route within your storage unit for retrieving items. For small businesses storing stock items a simple solution is to use shelving within the unit and organise stock using a proper system to ensure retrieval is quick and easy.
Our storage advisors are experts at maximising the space required based on individual requirements.
Call us now for advice on 01223-664288