Trust Cambridge Self Storage to provide excellent security, easy access and flexible rental periods for self storage units.
There are numerous reasons why people may need to place all or some of their personal belongings into storage. Moving house, renovating a home, down-sizing, right-sizing, relationship breakdown – these are just some of the life events that result in the need for personal self storage. Sometimes a storage unit may only be needed for a few weeks but in other cases such as relocating to a new area or moving overseas the requirement could be long term. People often cannot predict how long they will need to store their belongings because major life events can be unpredictable. House moves can be delayed, renovation projects can over-run and that 1 year posting abroad can quickly turn into 3 years. Fortunately domestic self storage is both cheap and flexible so it is easy and inexpensive to extend a rental agreement from time to time. It is the obvious choice when you have to store items either short-term or long-term in a secure, clean environment.
Self Storage for Personal Belongings
No one wants to spend more than they have to for storage space so it's good to know that Cambridge Self Storage are significantly cheaper than their big name rivals. We keep our costs down by having out-of-town storage facilities which allow us to offer you a better deal. Better still we collect and deliver to save you the hassle of hiring a van and transporting your items yourself.
We use professional 2-man teams who can do all the heavy lifting for you. But if you do want to retrieve your possessions at any time we offer 24/7 access for many of our domestic self storage units. With key or electronic card entry you can be sure only you have access to the space providing excellent security for all your items.
We also offer climate controlled storage to protect fragile items such as soft furnishings, books, paperwork and paintings, which can be sensitive to changes in the environment, particularly humidity. Be sure to let us know what items you need stored when requesting estimates so that we can give you an accurate estimate.
Why not use our collection and delivery service for hassle-free self storage of personal belongings.
Domestic Self Storage
Domestic self storage has always been used when moving house or renovating a current home, when living abroad or relocating to a new area, but increasingly it is becoming the perfect choice for those living in small homes or homes with minimal storage space.
Without a garage or shed to house much of our clutter people are turning to personal self storage units as an extension of their small home. Seasonal sports equipment such as surf boards or skis, seasonal items such as garden furniture and even wine collections are frequently being stored away from the home. With self storage facilities boasting excellent security it's easy to see why a clean, dry storage unit is preferable to a damp, insecure shed or outbuilding.
Anyone who has ever felt there just isn't enough space at home could benefit from their own domestic self storage space. We also offer storage units suitable for student storage and business storage.
Quick Tips on How To Declutter
Are you the kind of person who struggles to get rid of a mug, because you once used the mug when you felt sad and it made you feel better? Have you kept a card from a friend of a friend because it feels wrong to throw away good vibes someone sent you?
If you can relate to holding onto things for literally any reason, you are probably the kind of person who struggles to declutter. In fact, it must feel like a total nightmare having to spend time going through your belongings choosing which things to sacrifice.
The problem is, if you don't declutter you are at risk of having less room in your home, of being disorganised, and of breaking or damaging the items you do actually treasure.
If you struggle to get rid of anything, don't worry, we can help. Here's how to declutter when you hate getting rid of anything:
Think Really Carefully About 'Why'
It's one thing thinking a tidy house could look nice or, everyone is Marie Kondoing so you may as well, but for someone who hates decluttering, those reasons are not strong enough. You need much stronger reasons to give you the incentive to get things done. Maybe you want to sell enough to make enough money for a new car, or you want to clear enough space for a games room you have wanted forever. If the motivation is strong enough, you will push through and get rid of items you know you don't want or need.
Baby Steps
It may be that you will benefit from ripping the plaster off in one go. You take the spare room on, you declutter it, you get the job done. You may, however, find that overwhelming. If you do, then baby steps are a good direction for you. Declutter a few boxes, put them in cheap self storage, then approach the task again in a week or so. If that is too much, start with a drawer. However bite size the tasks need to be so you can get them done, make them so, and they will all add up eventually.
Enlisting Help
When you avoid decluttering it can help to have a friend or family member walk you through the process in a practical way. Perhaps, avoid your drill sergeant like friend who may make the process a bit too scary. Instead, have someone who will pick each item up and talk through its purpose with you. This gentle and effective process will help you declutter, because you'll have that extra boost and support from a loved one.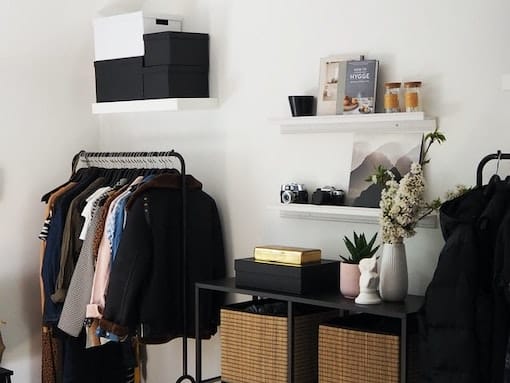 More Tips on Decluttering
OK so we did say Marie Kondo isn't a strong enough reason to declutter but, her reasoning can be helpful. She talks about how if an item doesn't spark joy, or serve a purpose, you shouldn't have it in your home. This can help when you pick items up and think about whether or not you want them. If you don't use them often, need them and they don't truly spark joy in your life, they need to go.
Making Time
Are you an avoider? Some people don't declutter because they simply avoid the job. If you make decluttering your priority and actively put aside the time to do it, you're more likely to get it done.
Actively Removing The Items
Sometimes it can be easy to sort items into boxes and then those boxes never actually leave the house, and slowly but surely, you might reopen the boxes, get the items back out, and reverse your decluttering. Actively place your decluttered items in the bin, outside a charity shop for collection, into recycling, or into your cheap self storage unit ready for sale. That way, you can't go back on your own good work.
Preventing Clutter
Preventing clutter can be hard for people who find sentimentality and use in almost any item. However, strong processes and procedures in place can help to prevent clutter building. For example, if junk mail goes straight in the bin when it is delivered then it never gets a chance to accumulate. If unwanted gifts go straight to charity before ever getting stored, they don't build up. Preventing clutter is a helpful way of avoiding a build up of it in the first place.
The tips above can help those who struggle to declutter to get organised, even if it takes a little more time or effort than it would with the average person. The benefits are a tidier house, a bit of extra cash, more room for activities and decor you love, and a more functional home.
12 Reasons You Should Consider Personal Self Storage
Personal self storage is a handy service where you can rent an indoor or outdoor storage space in sizes ranging from a gym locker to a football field. It is affordable, comes with a simple, flexible contract and there are extra benefits like security, reception services and delivery services.
If you're still not sure if you would benefit, take a look at these 12 reasons you should definitely consider a self storage unit:
1.   A New Baby
A new baby brings a need for a lot of extra space. Storage space is so handy for this time, because you can just put almost anything you want in there to make space for the baby's things. You can also store baby items in there until you need them.
2.   A New Pet
A new pet is cute and lovely and fun, but they also scratch, bite and need to be toilet trained. Extra storage space helps you to protect precious items until such a time as your pet is toilet trained and less likely to scratch and bite your furniture or expensive rugs. 
3.   Moving House
Self storage is so helpful when you move house. It gives you a neutral in-between space for items you need to sell or save until houses are bought or sold. It is so helpful when you're going between different homes.
4.   A New Business
New businesses can benefit greatly from self storage by offering you a low cost, flexible space to store stock, paperwork or equipment. It is likely much cheaper than office or warehouse space, which is perfect when funds are up and down as they can be with a startup. 
5.   Going Into Care
If you or a loved one is going into care self storage can be helpful to keep all the items that need to be kept until such a time they can be relocated or sold. It avoids the need to get rid of sentimental things straight away, which can be distressing when you are going into a care home.
6.   Making Home Office
If you are making a home office because you are working from home for the time being, or you are now a remote worker full time, making room for a home office is a good idea. You can just pop everything in your spare room into self storage and then create the perfect working space.
7.   Business Benefits
Lots of businesses can benefit from extra services often available at a self storage facility such as receptions who will take deliveries, and collection and drop-off services. 
8.   A Big Hobby
If you have a big hobby like wine collecting, crafts or collecting clothes then cheap self storage can save you cluttering your home with your hobby items. Instead, you can enjoy a dedicated space just for your hobby.
9.   Seasonal Storage
Seasonal storage is where you pop camping gear, seasonal wardrobes, gardening tools and Christmas decorations into self storage until you need them again. It gives you extra room in the home you otherwise have to use up storing items you may only use for one day a year.
10.  Downsizing
If you are downsizing, cheap self storage is so handy because you can keep your things in safe until you upsize again, or just so you have more storage space as well as your new compact home.
11.  Moving In With Your Parents
If you move in with your parents temporarily to save up for a home you may want extra room to store your things until you have your own place again. This is especially true if you are moving from a full house of your own, into your parents place, and you have lots of furniture.
12. Decorating/ Renovating
Self storage helps during renovation because it gives you a safe space to protect your belongings from dust, debris and breakages. It also clears the room for you to improve your home until it's ready to be redecorated and filled with furniture again.
Hopefully these 12 reasons to consider cheap self storage have helped you see just how handy it is as a service. Perhaps today is a great day to get in touch with your nearest facility and find out about the space they have to offer you for business of domestic use. It could be a great step towards your next big goal, so what are you waiting for?