There can be many reasons individuals and businesses need self storage at a reasonable price to store goods away to be used at a later time. Sometimes when moving house your household goods may need to be stored temporarily until your new home is ready. This may be due to timing and not having located a permanent home in your new city and you may need to store your belongings for a few weeks as you find a new home.
You may decide to do some renovations of your new home or build an entirely new home. You will need to have your furnishings out of the way while this is going on and the cheapest self storage is an obvious choice. You may just need to store items you do not, or cannot, have in your home due to space constraints. Self-storage at a competitive price can be an excellent option in situations like this. If you are moving and your household or office furnishings need to go into storage for a period of time, your moving company may have a storage option available but it will be considerably more expensive than a self storage facility.
You will be in possession of a key or access card and can control who has access to the space providing excellent security access for your items.
Small Self Storage Unit
Our smallest self storage unit is perfect for the contents of one room. It's affordable and a popular choice for overseas students who need to store their belongings outside of term time.
Dimensions:
Floor area: 10 sq ft
Height 6′ 6″ / 198 cm
Medium Self Storage Unit
Our medium-sized self storage unit is a very versatile and popular size. It is inexpensive and large enough to accommodate shelves and hanging space if required.
Dimensions:
Floor Area 35 sq ft
Height 7′ 4″ / 225 cm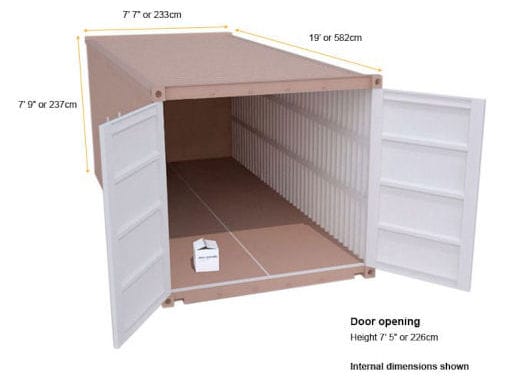 Large Self Storage Unit
Our large self storage unit is a similar size to a typical single garage. It can accommodate the contents of an average 1 or 2 bedroom home. It can also be used for storing business, equipment, paperwork or stock for small companies. It is a flexible and affordable option for growing companies.
Dimensions:
Floor Area: 160 sq ft
Height: 7' 9" / 237 cm
Extra Large Self Storage Unit
The Extra Large Self Storage unit is our biggest single storage space. Large enough for the contents of a whole house, or even a place to store a valuable car. Also a low-cost option that is perfect for the storage of business archives, office equipment or stock.
Dimensions:
Floor Area: 320 sq ft
Height: 7′ 9″ / 237 cm
Dimensions are shown as a guide only and containers may vary slightly due to manufacturing tolerances.
Self Storage Checklist
Rent The Right Amount of Space
No one wants to have to pay rental for storage space that they don't need but neither do they want to find their storage space won't accommodate all of their possessions. So it makes sense to talk to the experts who can help you calculate the correct amount of space for your requirements.
Check If The Regular Price Is Fixed
No one wants an unexpected price rise soon after moving all your items into cheap storage units so ask the provider if prices are fixed and, if so, for how long. At Cambridge Self Storage we are proud to offer an industry-leading 5 years fixed price for all our storage units whether you need personal or business self-storage. So whether you are renting for 3 months, 1 year or 5 years you will know the total cost at the start of the rental period. Few other self storage facilities will offer that sort of guarantee.
Check Your Insurance Cover
Before placing your items in storage check whether your household or business insurance covers you both during transportation and whilst the items are in storage. Look carefully at any exclusions in terms of what is and isn't covered to make sure you fully understand any risks you may be taking.
Moving House
One of the most common reasons for renting inexpensive self storage is when moving house. Particularly if you are down-sizing or combining 2 households. In these cases you may have more household goods than will fit in your new home. So storing some possessions away while you decide what you want to keep avoids making rushed decisions you may regret later.
Inexpensive storage is also useful for people moving into rented accommodation after selling their current home. In a uncertain housing market the best way to secure a good price on an existing home is to be able to move quickly. Something that is almost impossible if you become involved in a long buying and selling chain. Renting can help minimise the chain length and places buyers in a better position to secure their next home as they become cash buyers (or, at least, chain-free buyers).
The minimal expense of a low-cost self-storage unit can more than offset the cost-savings from being a buyer in a good position. Sellers are much more likely to accept a lower than asking price offer if they know you can move quickly.
Relocating
Relocating to a new area or even a new country can be a busy and stressful time. Even when it is something to look forward to such as a new job or moving to be closer to family, there are still endless tasks that need to be done to make the move as smooth as possible.
This is another time when renting a cheap self-storage unit can save you time and hassle. Our units are inexpensive and easy to access so well in advance of the moving date you can start packing boxes and storing them away from the home in readiness for the big day.
People often choose to leave some possessions in their storage space until they have settled into their new home. At Cambridge Self Storage we can deliver your items to your new location at a time that suits you – once all the hassle of the move is out of the way.
Business Start-Up
Starting up a business is an exciting but hectic and worrying time. It's also a financially risky time so the last thing small business owners want is the added worry of long-term financial commitments. That's where the cheapest self storage can prove to be the perfect solution. A cost-effective self-storage unit can provide as much, or as little, space as a business needs. Contracts are flexible and the maximum commitment is 1 month. The amount of storage space can be increased or decreased as demands of the business change.
Add to that the security of a self storage facility, which is often much more secure than the average home or garage, and it's easy to see why self storage is so popular amongst small business owners.
Benefit from bulk discounts when purchasing stock and store away until needed. Buy seasonal stock well in advance for extra discounts too. These and many other cost-saving measures can help get a business start-up off on the right financial footing.
5 Simple Signs It's Time To Store With A New Self Storage Company
Find out why you might need to cut ties with your current self storage company and store elsewhere in the future.
When it comes to the helpful service of affordable self storage, there are many amazing benefits including: flexibility, security, extra services and affordability. However, it is important to recognise that not every self storage company is made equal. You could well be paying out for sub-par services and you don't even realise. Or, you're unhappy but you've not made a move, perhaps assuming that the comprises you're having to make are just part of the deal.
When it comes to affordable self storage, you don't have to stick around if you are unhappy with the services. In fact, it is important to shop around to get the best value for money. You are storing your precious belongings after all, so it makes sense to keep them in a place you're truly happy with.
To help you decide if it is time to switch self storage companies, here are 5 simple signs you could be getting a better deal elsewhere:
24/7 Access Isn't Available
Not everybody needs 24/7 access, so if your unit doesn't offer it and you don't need it, then this isn't an issue. However if you could benefit from accessing your unit outside of general office hours, you could source a company that allows you to do that. It isn't uncommon for some units to stay open 24 hours a day which can be handy if you need access late at night, or you're a business in need of 24/7 delivery capabilities.
Security Isn't As High As It Could Be
If there is one thing every self storage company should be offering in heaps it is excellent security. You should expect all finds of effort, from cameras, to different lock points and gating. If you worry your unit could be targeted by thieves because the facility isn't up to scratch on their security, it is probably time to move elsewhere.
There's No Climate Control
Not every unit needs to be climate controlled but it can be helpful if you store items like wine, art or technology. Below freezing temperatures, or excessively hot temperatures can be a problem for certain content types. If you would prefer climate control it is offered in many self storage facilities and is a handy flexibility to have.
Customer Service Is Poor
Do you worry about ringing your self storage company for fear of being spoken to rudely? Are you tired of never getting any answers when you email enquiries? Customer service should not be lacking, especially if you use your facility a lot. This is extra stress you don't need. The best self storage facilities have friendly and helpful staff in-house and on the phone to help their valued customers. And you should feel just that, valued, by the right self storage facility.
The Place Isn't Well Kept
An unclean, unhygienic self storage company is not something you have to put up with. If general cleanliness isn't very good, where else is the ball being dropped? Which areas of the facility are left being able to decline? Look for a unit that is clean, well managed and well maintained. It shows a sense of pride in the product you are being sold, helping you trust that the service you are paying for is good value.
The five tips above can help you decide whether or not it is time to leave your current self storage company behind, and get better value and better customer service here at Cambridge Self Storage.
Self storage is much more popular these days and the best companies know they have to offer a great service to compete for your business. Shop around for a clean, secure, friendly and well maintained facility, so you can enjoy true value for money when you store your things.
10 Self Storage Accessories You Need To Invest In
If you use your storage unit regularly, you'll want these 10 accessories in your unit.
If you use your storage space regularly, it makes sense to make your experience there as easy and manageable as possible. You may not realise that there are lots of accessories you can use in self storage to make your life easier. 
Here are 10 self storage accessories you need to invest in:
 A Vacuum
A vacuum cleaner is so useful in a self storage unit. It enables you to not only deal with floor dust, but to suck out dust and debris from boxes and other nooks and crannies. Battery powered is best if you don't have electricity in your unit.
Tarpaulin
Tarpaulin is so useful in self storage. It is quite strong which means it will be durable on anything you choose to cover. Whether you use it to disguise items you want to remain private, or cover vehicles and furniture, a few tarpaulin sheets always come in handy.
Plastic Sheeting
A roll of plastic decorators sheeting is invaluable in a self storage space. It takes up hardly any space at all and can be used to wrap everything from furniture to clothes.
Cardboard
Cardboard boxes in a unit are a great addition when flattened and stored against a wall. Cardboard itself isn't only useful to turn into boxes for storage. You can use cardboard to line the floor and maintain warmth. This also cushions the floor when you're walking on it a lot. Cardboard can protect the floor from vehicle leakage and staining on concrete too. You can even use two sheets of cardboard to store art and clothing, avoiding creases and damage.
Tape
Tape is an essential self storage accessory to have. It is useful for packaging items for postage, to add labels to boxes, and to secure new items to be stored.
 A Shredder
If you store paperwork in your unit and you regularly get rid of it, a shredder could be a great idea. If you don't want to pay for professional shredding services, you'll want to shred paperwork for better security. A diamond shredder tends to be the best option for sensitive information.
A Beanbag Or Chair
Having something to sit on in your unit is actually more important than you might realise. If you spend a lot of time there, you need to give your legs a rest.
Snacks
Whilst you're relaxing in your chair you should have some snacks to enjoy. A small box with packaged snacks and some drinks will likely be most welcome after an afternoon of sorting through stock.
Shelving
Different types of shelving is really useful in a self storage unit. Floor space comes at a premium but you can fit even more in with vertical storage.
Storage Boxes
Solid storage boxes can come in very handy for quick storage, especially the types with lids. Having a few of these around, of different sizes, will help you in the case of a quick visit where items need storing quickly and efficiently, and cardboard box construction isn't something you have time for.
The 10 suggestions above can help you accessorise your self storage unit in a way that makes it more functional and easy to use. With the right additions to your unit, you can have a better self storage experience each time you visit your unit.
Important Factors To Consider When Renting Storage Units
An important factor to note is that when you are placing items in a self-storage unit they take up much less space than in a home or business premises because they can be stacked to the full height of the unit. Large furniture items such as beds and sofas can be placed upright to maximise the available space.
If you will need regular access to your belongings then you will also need to consider an access route within your storage unit for retrieving items. For small businesses storing stock items a simple solution is to use shelving within the unit and organise stock using a proper system to ensure retrieval is quick and easy.
Our storage advisors are experts at maximising the space required based on individual requirements.
Call us now for advice on 01223-664288
Market Traders: You Could Benefit From More Storage
Here's how as a market trader you can gain flexibility and better business functionality with low-price self storage.
As a market trader you don't have business premises to store stock. Instead you need to find other ways to store your inventory.
Lots of market traders can use their garages or homes to store their stock. The problem with this type of storage is that it is liable to environmental damage like flooding. It is also open to theft from criminals operating in the area. Even without those risks, stock can end up taking up precious space inside the home.
Having somewhere like self storage can help you securely store your stock without the worry of keeping it at home. This also provides additional flexibility in other ways.
Here are just some of the reasons self storage is a great idea for market traders:
Taking Advantage Of Bargain Bulk Stock
As a market trader you might like to buy bulk stock at a bargain price. Self storage gives you somewhere to store lots of stock you won't be selling for a while.
For example: some market traders may buy Christmas stock in January. Having somewhere to store the stock all year before you can make a profit on it is helpful, enabling you to take advantage of this kind of bargain bulk opportunity when it arises.
Being Able To Have Pre-Orders
Some suppliers might require you order your stock well in advance. This means you could have to store stock at least a few months in advance at any one time.
Having self storage for pre-ordered inventory means keeping your suppliers happy, and ensuring you have a stock plan for at least a few months ahead of any one buying season.
Great General Storage
General stock storage is so helpful. It helps keep your stock safer than it will be at home as self storage facilities offer CCTV, lighting, lock-points and more to keep your things safe. Environmental damage is also less likely, especially with climate controlled units.
Lots Of Extras
Extra services like reception services taking deliveries, pickup and delivery services and packing services are really helpful when it comes to the overall management of your business. Many self storage facilities offer extra services to help the businesses who have contracts with them.
Plenty Of Flexibility
It's flexible being able to switch from different sized units, and even cancel your contract quickly, is so helpful when your income isn't constant. If your market trader business is new or you have been affected by the pandemic, knowing you only have a weekly or monthly contract, or you can move between different sized units, is invaluable so you don't suffer from common startup growing pains.
As a market trader you need flexibility, secure stock and any additional help that makes your challenging job easier. Cheap storage units at a reputable self storage facility can help you with that. Why not call us today to see how we can help you ? It could be a great way to support your business moving forward in an economically uncertain world.
Call us on 01223-664288 for advice or to book a unit now…
A Helping Hand During Estate Probate
Here's how an inexpensive self storage unit can help out whilst an estate is handled following the passing of a loved one.
Planning what happens to your estate when you are no longer here is important, but sadly, some people don't manage to get around to it before their passing. Even with a clear will, disputes around estates are common.
When an estate is held in probate because of disputes over the legalities, or there are delays in sorting out an estate, self storage can help. Here's how:
Holding Items In A Neutral Location
It can help to hold valuable items in a neutral location whilst the estate is sorted out. This stops any dispute about who has access to the items. You may be able to arrange the items being located in self storage, and the solicitor holding the key. Alternatively the executor of the estate can hold the key.
Giving Time For Items To Be Collected
It may be that the will details certain special items are to be left to different friends and family members. If this is the case, they might not be able to get to the area for some time. In this instance, having self storage to keep those items safe until they are collected is a good idea. This is especially true if the house needs to be cleared quickly.
Pushing Through The Sale Of A House
Sometimes with estate disputes, the house still has to be sold quickly despite any legal problems. Self storage enables the house to be cleared quickly, and then the contents can be sorted out slowly all whilst the house can be sold.
Keeping The House Safe Whilst It Cannot Be Sold
Sometimes a house cannot be sold because of estate probate. In this instance, it makes sense to clear the house rather than have it open to criminals breaking in and taking advantage of the empty property.
Self storage can hold the items safely away from the empty house, preventing criminals breaking in, stealing things and making a mess.
Helping With Renovating A Property
It may be that the family has to pull together to renovate the property for sale. Perhaps it is in a state of disrepair and a lick of paint will help it achieve better market value. Local self storage can help with this, enabling you to quickly clear the property to renovate it.
It also helps you to have a neutral space to hold decorating tools and supplies for each family member to collect and drop off, rather than keep them in the property which may be a target for theft.
Dealing with the estate of a lost loved one can be tough, especially when legal disputes occur. Affordable self storage can help make the process that bit easier, providing a neutral and secure place to utilise whilst the estate is settled. Speak to your solicitor today about whether or not self storage could be a good idea, helping ease just some of the stress of this tricky and challenging situation.